BIDDING In-Person At The Auction
BIDDING (we reserve the right to refuse to accept bids from anyone)
VIEW THE AUCTION
Find us @
Bid.SuperiorLivestock.com
Click "All Auctions" TAB
Sales are organized by sale date: June 18th Jake Clark's Mule Days Auction
VIEWING THE AUCTION - An account is not needed just to watch the
Auction or view videos of the sale off ering.
The auction will be broadcast online at Bid.SuperiorLivestock.com
and the pre-recorded videos will also be hosted there.
Questions?? Please call the Superior Livestock office 800-431-4452.
FINANCIAL ABILITY & ABSENTEE BIDDING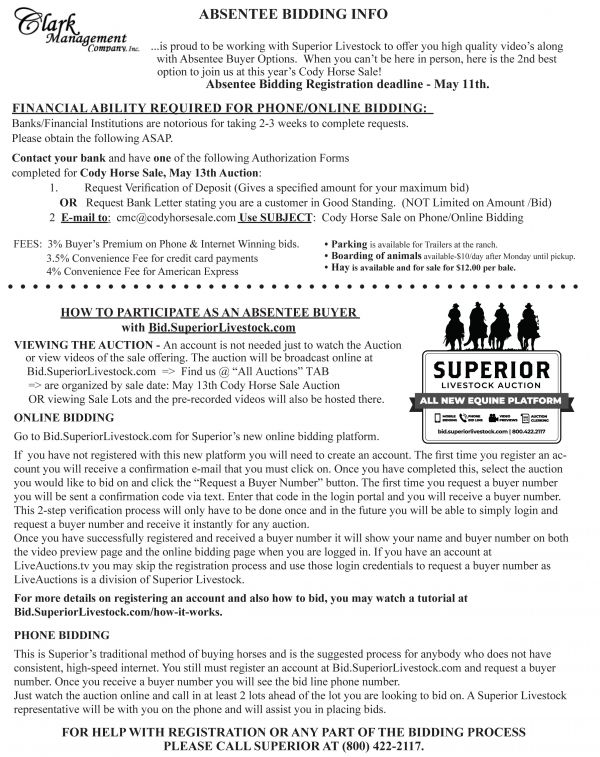 Questions?? Please call the Superior Productions office 800-431-4452.
PAYMENT OPTIONS
Preferred Payment Method
Checks are accepted if you are at the sale in person and a registered buyer with the CODY HORSE SALE Office on sale day!
Bank Wire, Preferred Payment Method for Superior Livestock Buyers.
Bank Wire shall be due MONDAY prior to NOON MST, immediately following the sale date.
You will be emailed an invoice advising you of the balance due and will include wiring instructions.
or We are glad to email directly to your contact at the bank if you have made arrangements to have them handle the wire. Provide your bank contact's name & email address.
Credit Card Payments will be accepted at an additional 3.5% convenience fee.
By paying with a credit card you acknowledge, That you

waive the right

for a return of the horse and/or refund of monies paid, all in conjunction with your purchase at this sale from Clark Management Company, Inc.

Clark Management Company is a pass-through agency and does not hold funds for guarantees, returns or refunds of monies paid on animals purchased at auction.